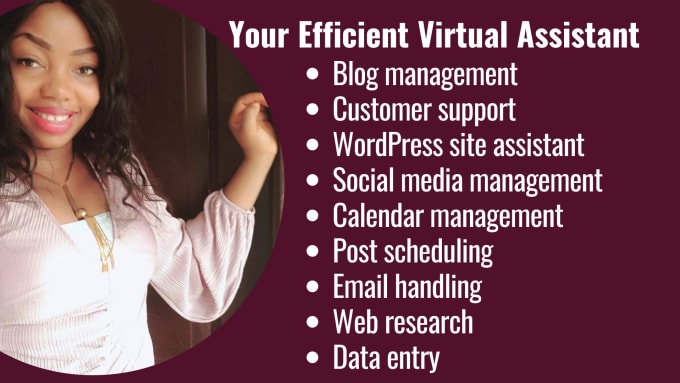 Gig Description
If you need an efficient administrative or personal virtual assistant then look no further. I'm here to assist you
Gig Content
If you need an efficient administrative or personal virtual assistant then look no further. I'm here to assist you with the following tasks:
Data entry
Shopify/Etsy customer support
Blog management
Email management
Social media management
Contact list management
Record keeping
Web research
Organization of files
Customers support
Conversion of PDF to word or excel
Copy and paste
PowerPoint Presentation
Post Scheduling (Hootsuite, Buffer, creator studio etc)
WordPress site assistant
Basic graphic design (Canva etc)
Calendar management and
Any other administrative support task
Hire me and I will provide you with an excellent service. I will handle all your projects personally and I would never outsource to a third party because the confidentiality of my client information is my top priority.
If you need to invite me to any task management software like Trello or Asana, I will send you the necessary information through the order page.
Please contact me before selecting a package to discuss expectations and to avoid any cancellation.
I look forward to working with you.