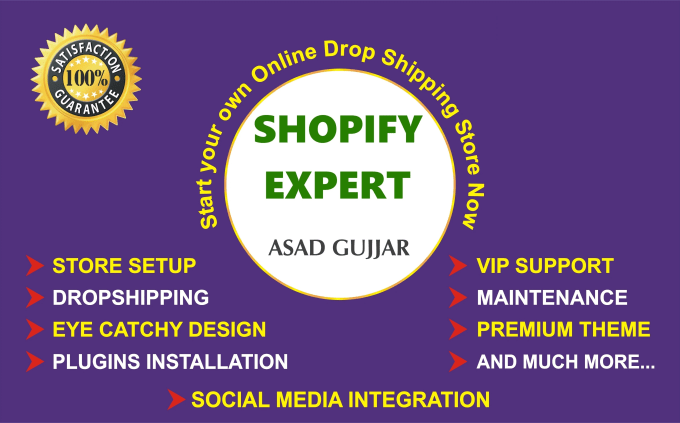 Gig Description
My services are focused on assisting you as eCommerce entrepreneurs to setup and launch best shopify store that are SEO friendly, eye catching design and make huge sales
Gig Content
I welcome you to my shopify gig. My services are focused on assisting you as eCommerce entrepreneurs to setup and launch best shopify store that are SEO friendly, eye catching design and make huge sales. If you want to start making money through automated Shopify dropshipping store or you have your own business/inventory then you are at right place. I work according to the modern ecommerce industry standards by keeping myself up to date to latest trends.
6 Great Reasons Why Choose Me:
✓ Premium Store Creation
✓ Beginner Friendly - You will learn along store development
✓ Fast Communication
✓ On-time Delivery
✓ 100% Satisfaction Guaranteed
✓ Upto 7 days of free support
What you will get?
Shopify Store setup with Premium Theme
Categorized Products
Apps/Plugins Installation & Configuration
Custom Design
Payment Gateway Setup
Sales Channel (Facebook, Instagram, Amazon, Ebay)
Pages (About Us, Contact Us etc)
Facebook Pixel Setup
Social Media Integration
Policy/Legal Pages(Privacy, Terms of Service, Refund)
Search Engine Optimization

and Much More